ARCHIVED REPORTS OF LIGHTNING STRIKES OVER IRELAND Sunday 03 December 2023
Please select a date from the menu on the right.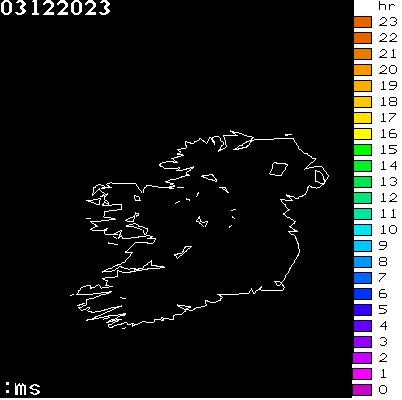 The ATDnet Lightning Detection System is optimised for detecting cloud-to-ground lightning strokes and flashes rather than cloud lightning (inter-cloud and intra-cloud lightning). The majority of lightning occurs in the storm cloud itself or between clouds. On average approximately 10 to 20 percent of all lightning over Ireland are cloud-to-ground strikes.
Lightning locations are sourced from the WMO SFERIC (SFUK) messages. Some atmospherics may not be detected. Isolated spurious returns can also occur. Detection efficiency is variable, ATDnet is capable of detecting in excess of 90% of cloud-to-ground lightning flashes over Ireland. Typical location accuracy is estimated to be around 1–3km, or less.  Further information about lightning detection at Valentia Observatory is available here.
We are most grateful to the UK Met Office for the use of their Arrival Time Difference (ATD) lightning location data.