Few things impact us on a daily basis like the weather; how we work and travel, how we exercise and socialise, how we grow our food, our safety and even how we feel. Our weather and climate are changing, and a better understanding of our atmosphere can help us navigate these changes.
The Met Éireann Podcast explores all things weather and climate, the mysteries of our atmosphere and meets the people that work to understand them. Dr Noel Fitzpatrick is joined by new guests each episode to help uncover the science and its wide-ranging impacts. For more, see met.ie/podcast.
So whether you are a new or existing listener- be sure to subscribe to The Met Éireann Podcast series wherever you get your podcasts.
We also have an Irish version of this podcast – Podchraoladh Met Éireann
Click on the player below to listen to the latest episode and more.
You can contact the Podcast team at podcast@met.ie or use #MetEireannPodcast on Twitter
Season 4 Episode 10 – TRANSLATE
Rapid and effective action is required to help mitigate climate change and to help adapt to its impacts. With an ever-increasing number of climate studies showing evidence of ongoing changes and detailing future effects, it's vital that policy makers and the public have access to clear and concise information.
In this month's episode of the Met Éireann Podcast, we are exploring the TRANSLATE project; an initiative to provide a unified source of climate information and climate projections for Ireland. Noel is joined by Dr Claire Scannell, physicist and researcher with Met Éireann. Together, they discuss the future climate projections for Ireland, and how the TRANSLATE project can help decision makers to prepare for change and to take steps to avoid the worst impacts. You can find out more about the TRANSLATE project here:
Season 4 Episode 9 – Wildfires
Wildfires have occurred on our planet for millions of years, helping bring new growth and diversity to forests and ecosystems. Weather and climate play a central role in wildfire occurrence. Changes to our climate, however, and the effects of human activity, have impacted wildfire patterns, resulting in increased risk of major wildfire events like those seen this summer in Europe, North America and Asia.
In this episode, we are exploring wildfires, how they start, how they spread, how best to tackle and prevent them, and the role played by climate change. Noel first speaks with Dublin fire fighter and wildfire instructor Darren O'Connor on the challenges and science of tackling wildfires and the techniques used to manage the flames. Noel is then joined by Jennifer Baron, wildfire researcher at the University of British Columbia in Canada, to discuss the huge fires they've experienced in recent years and how human activity and climate change have impacted their patterns.
You can view Met Éireann's Fire Weather Index, which is updated daily.
Season 4 Episode 8 – Saving Lives at Sea
The lifeboats of the RNLI have been saving lives in Irish and UK waters since 1824. Almost entirely run by volunteers, the RNLI have rescued over 144,000 lives since founded, often in very challenging conditions.
In this episode of the Met Éireann Podcast, Noel visits the Sligo Bay Lifeboat station and speaks with the crew on how they carry out their vital work and the impact that weather can have on their operations. Noel is first given a tour of the station by Operations Manager Willie Murphy, and then joins Helm Eithne Davis onboard for a detailed run-through of the boat itself. Noel then sits down with Willie, Eithne and RNLI water safety representative, Tim Doran, to learn more about how rescues are carried out, the training involved and how best to remain safe in or around water.
Season 4 Episode 7 – The Sun and Our Skin
What causes sunburn? How does UV radiation damage our skin? Can it cause ageing? Who's most at risk from skin cancer? How does sunscreen work?
In this episode, Noel is joined by Dr Barbara McGrogan and Dr Triona McCarthy of the National Cancer Control Programme. Together they explore the role of sunlight and UV radiation in skin damage and skin cancer and how best to protect ourselves from the most adverse effects.
To learn more about UV damage and protecting your skin, check out: https://www.hse.ie/sunsmart/
Season 4 Episode 6 – Aurora and Space Weather
The aurora, or northern and southern Lights, can often be seen dancing in the night sky of our polar regions. But in recent months, they have been visible at much lower latitudes. What causes the aurora and why does its activity appear to be increasing?
In this episode of the Met Éireann Podcast, Noel is speaking with Dr Sophie Murray, space weather researcher and technical officer with the Dublin Institute for Advanced Studies. Together, they explore the aurora, solar winds, the role of the sun in space weather and the potential for more aurora sightings in the near future.
Crossover Episode with the 'Basically… with Stefanie Preissner' Podcast
We have a special crossover episode of the Met Éireann Podcast this month. Noel joins Stefanie Preissner on the Basically podcast for a fun, wide-ranging conversation covering everything from why Ireland gets the weather it does, how weather forecasting works, your chances of getting struck by lightning and what climate change has in store.
Season 4 Episode 4 – Weather Radar
Weather radar is one of the most useful tools available to meteorologists or anyone wondering if it is going to rain! From its early beginnings during World War Two, to the advanced equipment used today, weather radar provides vital information for forecasting, severe weather tracking and atmospheric research.
This month, Noel speaks with radar meteorologist, Sinéad Duffy. Sinéad talks us through how weather radar works, how it was discovered and improved over time and details some of the major upgrades coming soon to the Irish radar network.
Season 4 Episode 3 – Lift off: The launch of Europe's new weather satellite
Guests: Dr. Lothar Schüller (EUMETSAT), Pierre Kokou (ESA)
Europe's newest weather satellite launched from the Spaceport in French Guiana on December 13th 2022. The Meteosat Third Generation-Imager 1 satellite, or MTG-I1, will deliver advanced imagery of our atmosphere and planet, and provide vital information to weather forecasters and climate scientists.
In this month's episode, we are looking to space and what the future holds for satellite meteorology. Noel reports from the launch event for MTG-I1 at the European Space Agency in the Netherlands, and speaks with some of the scientists and engineers involved in this mission. We then follow along as they count down to lift off. Noel is first joined by Pierre Kokou, instrument engineer with the European Space Agency, to hear about the process of developing the satellite and getting it to the launch pad. He then speaks with Dr. Lothar Schüller, a network manager with EUMETSAT, on the scientific mission of the satellite and what it will mean for scientists, forecasters and society.
Season 4 Episode 2 – Climate impacts and solutions with Prof Peter Thorne
The extreme heatwaves and droughts of Summer 2022 affected hundreds of millions of people across the Northern Hemisphere, and although exceptional to us, should they now be expected in a warming climate? Will last summer be considered average or even cool later this century?
In this month's episode, Noel is speaking with Professor Peter Thorne, a professor in Physical Geography at Maynooth University and the Director of the Irish Climate Analysis and Research Units group (ICARUS). Professor Thorne is also a Lead Author for the Assessment reports of the Intergovernmental Panel on Climate Change (IPCC). Together, they discuss the current climate path we are on, how individual extreme events can be attributed to climate change, the opportunities presented by climate mitigation and outlooks for the future.
Season 4 Episode 1 – Adventures on the frontiers of climate change
Dr Heïdi Sevestre is one of the world's leading voices on the need to protect our planet's cold places and the damage being caused by climate change. In this episode, Heïdi and Noel discuss her recent expeditions to the Arctic, Greenland and Andes, surviving severe storms and polar bear encounters, and joining the world's best climbers to help carry out research in extreme locations. Heïdi and Noel also discuss the importance of science communication and the need for climate scientists to raise their voices.
---
Season 3 Episode 3 – IPCC Report – Avoiding the worst effects of climate change
After discussing the current and future effects of climate change in our last episode, this month we explore how we can reduce and avoid its worst impacts. Noel is joined again by Dr. Padraig Flattery to discuss the latest IPCC report on climate mitigation.
Season 3 – Episode 2 – Top 10 take aways from the IPCC Report on the impact of Climate Change
In this month's episode, Noel speaks to Dr. Padraig Flattery of Met Éireann's Climate Services about the latest IPCC climate report, and they discuss its top 10 takeaway messages.:
1. Vulnerability
2. Irreversible Changes
3. Approaching Limits
4. Human Health and Climate Change
5. Protection of Nature
6. Community and Local Adaptation
7. Mental Health as an impact
8. Climate resilient development
9. Maladaptation
10. Ireland – Impacts and progress so far
Season 3 – Episode 1 – Ancient Ireland and the Sky
In this month's podcast, we're exploring the sky's influence on the culture and structures of ancient Ireland. Noel talks to Dr. Frank Prendergast, one of Ireland's leading experts on solar alignment, about the role of the Sun, Moon and stars in the design and position of tombs and monuments in prehistoric Ireland, and on the importance of preserving dark night skies in the present.
Season 2 – Episode 8 – The Future of Forecasting
Join Noel & Liz in the latest Met Éireann podcast which covers topics from the advancements in satellite, radar and artificial intelligence, to the new UWC supercomputer which will be operational next year.
Season 2 – Episode 7 – COP26, Storm Barra And Winter Weather Forecast
In this bumper Xmas edition, senior climatologist Keith Lambkin gives us a round-up of what happened at COP26 and meteorologist Paul Moore joins us to discuss Storm Barra and what lies ahead weather wise this winter.
Season 2 – Episode 6 – COP26: What's At Stake And What To Look Out For
Dr. John Hanley is a climate scientist at Met Éireann and in this episode he highlights some of the latest findings on climate change as well as the key objectives of COP26, which he will be attending.
Season 2 – Episode 5 – Weather in Search and Rescue
This month, we look at the vital service provided by search and rescue teams and how weather impacts their operations. We talk to members of the Galway Mountain Rescue team, Rory Sherlock and Eamon Hartley, and pilot Pauric Slattery from the Rescue 118 Coast Guard helicopter.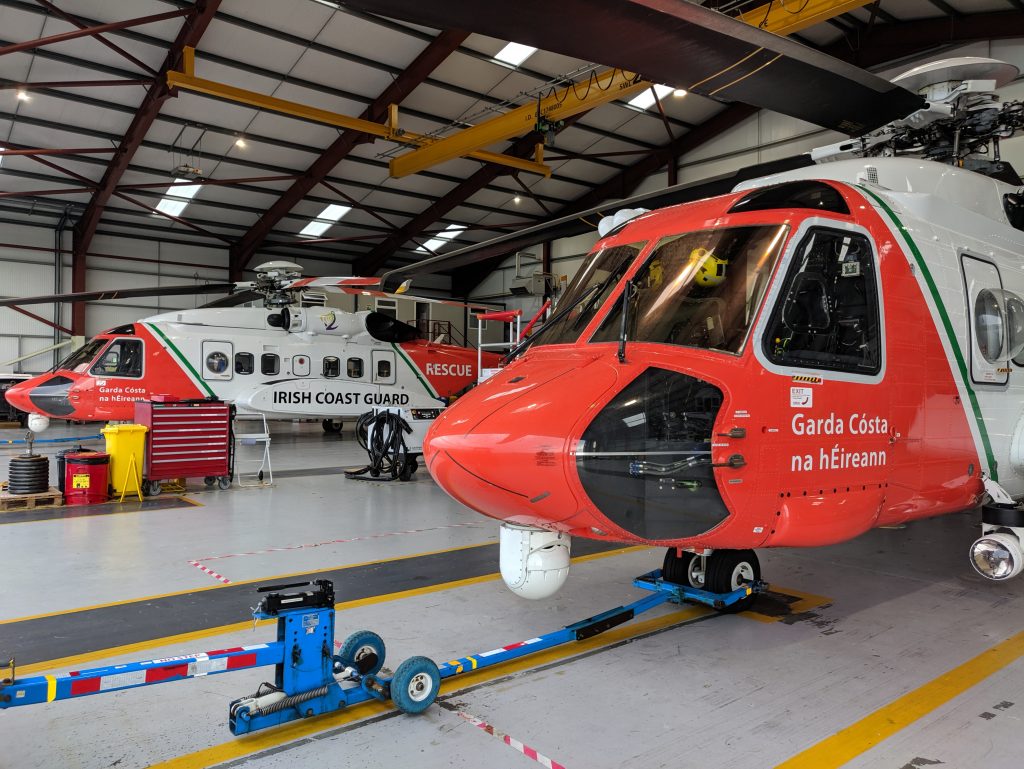 ---
Find out more about the presenters and each episode from Season One in our notes below